Best Static Website Hosting Providers
Do you know that 1 out of 4 users will abandon a website if it takes more than 4 seconds to load? The studies show that just 1 second of delay reduces customer satisfaction by 16% that translates into a drastic decrease in conversion rates and leads. Speed has become crucial in today's World, making a web page's loading time and overall performance a number one priority.
The great thing is, you do not have to be a developer to meet these demands and expectations. All you need is an oldie but goodie static website. Despite being almost forgotten several years ago, this approach is considered the fastest way to serve the content to the digital crowd nowadays.
According to Levi Nunnink's research, when well done and taken advantage of a reliable static website hosting provider, these websites significantly outperform their counterparts (hosted and dynamic websites). Therefore, if you are up to fast online estate, it should be your top choice.
In comparison with static website hosting, no-code website building refers to the process of creating and designing a website using visual, drag-and-drop tools rather than writing code. This approach has several advantages, particularly for those who may not have coding skills or the time to learn them.
One of the primary benefits of no-code website building is that it allows individuals and businesses to create a professional-looking website quickly and easily. With drag-and-drop tools and pre-designed templates, users can create a fully functional website in just a few hours or days, rather than the weeks or months it might take to build a website from scratch using code.
Another advantage of no-code website building (as an example no-code design tool – Siter.io) is that it is often more cost-effective than hiring a developer or agency to build a website. By doing it yourself, you can save money on labor costs and have more control over the design and functionality of your website.
No-code website building is also highly flexible, allowing users to make changes and updates to their website on the fly without needing to know how to code. This means that businesses can easily make changes to their website as their needs evolve, without having to rely on a developer to make those changes for them.
Overall, no-code website building offers a quick, easy, and cost-effective way for individuals and businesses to create professional-looking websites without needing coding skills. It is a valuable tool for anyone looking to establish an online presence.
Let's consider the static website concept a bit closer and find out the best static website hosting provider, where you can host it to enjoy all those benefits.
What Is the Static Website?
First things first. Generally speaking, there are three different types of websites, even though they come in all shapes and sizes:
hosted websites (those that you can build and host with web applications like Squarespace),
dynamic websites (those that are powered by Content Management Systems like WordPress or programmatically generated through other means),
and static websites that have been around since the dawn of the Internet.
The static website is a pack of interconnected plain HTML files with CSS and JavaScript code, where each one represents its web page. The content is fixed; it is not connected with any back-end or database. The same information is shown to every visitor.
This approach uses server-side rendering, consumes minimal computing resources, and sends in a few queries to serve pre-built HTML, CSS, and JavaScript files to a web browser.
It is important to note that static websites do not mean lifeless. They can be interactive since you can use JavaScript to create animations, transitions, and dynamic effects.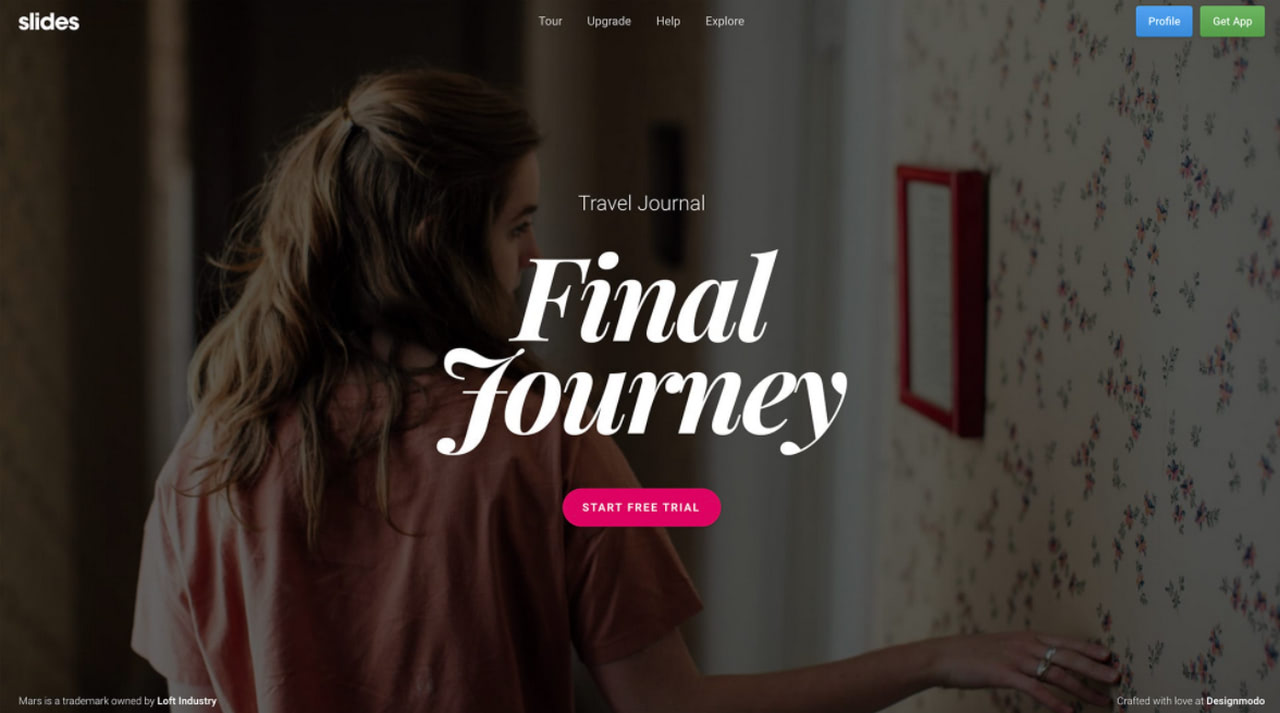 Difference Between Static and Dynamic Websites
Dynamic websites operate in a completely different way. Although it is the same set of HTML files with CSS and JavaScript code, however, this time, the content is dynamically generated. Also, such projects imply server-side operations.
While in a static website, the footer, header, and all interface elements are physically in-built into the page, in dynamic websites, they can be taken from different files and inserted inside the web page or even generated programmatically when the time comes.
The dynamic website requires a database layer and uses server-side technologies (such as PHP) to build the website brick by brick. It can serve different content to different visitors.
The main differences between static and dynamic websites are:
In static pages, the content remains fixed, while in dynamic pages, it can be partially or entirely generated.
In static pages, the information is changed manually, whereas, in dynamic websites, it can be changed programmatically or fetched from other applications and services.
Static websites do not use database and server-side languages, whereas dynamic websites, in most cases, employ them to function correctly.
Static websites do not contain application programs, whereas dynamic websites may contain them to collaborate with various services in real-time, for example, to fetch relevant data or build graphs.
Benefits of Static Websites
Let's be honest; dynamic websites outperform static websites when complex projects with regularly updated data are involved. They also outperform them when you need to build a dashboard or any other web application. However, static websites are second to none when it comes to landing pages, which are crucial marketing instruments to drive engagement, generate traffic, and leads. So, what is their secret?
This concept has been around for decades. Much like any technology, it has its ups and downs. It was almost forgotten and written off as salvage when WordPress-powered solutions came to power a decade ago. However, several years ago, it was given a second life when the marketers and digital entrepreneurs had recognized its potential hidden in startling speed and dazzling performance.
As we have already pointed out, the speed of serving data to the customers has become crucial today. According to recent studies, pages that load 5 seconds have an average bounce rate of almost 40% – it is a huge missed opportunity and lots of lost leads. To back up this, Google has also conducted research and found out that decreasing load time only by 0.1 seconds led to an increase of lead generation by 9%.
If you're a fan of static websites, you have the option to export your Figma designs directly into HTML or even live websites with the help of various Figma plugins, create by siter.io.
Figma plugins serve as incredibly useful tools, allowing you to streamline your workflow and accomplish complex tasks with ease. For example, if you wish to convert your Figma designs into a functional HTML website, there are plugins specifically designed for this task. Not only do they generate the necessary code, but they also preserve the overall aesthetics of your design, ensuring that your static website maintains its original look and feel.
Additionally, there are Figma plugins that enable you to export designs directly to a live website. These can be particularly helpful if you're working on a website redesign, allowing you to test and implement changes in real-time.
It's also worth mentioning that these plugins can be customized to suit your specific requirements. So whether you're a seasoned web developer or a beginner looking to learn the ropes, Figma plugins can be a powerful asset in your web development toolkit.
Just remember to explore Figma's plugin library to find the ones that best fit your needs, as there's a wide variety of options available.
Among all the techniques, only static websites may provide business owners with a breakneck speed. On top of that, they have a minimal loading time and an engaging experience without the frustration that helps digital marketers seize every opportunity to generate leads and increase revenue.
There is more. They come with some other substantial advantages, such as:
Fast and Easy Deployment. With a plethora of reliable static website generators with an intuitive interface and many valuable features like Slides, marketers and non-tech-savvy entrepreneurs can build and deploy static pages within minutes.
Fast marketing results. Thanks to intuitive static Web hosting providers and static web page generators, marketers can do numerous A/B tests defining the best option for the campaign in the shortest time.
Lightning Speed. Lack of database requests, computing, server-side operations, and dynamic content generation makes the website incredibly fast to load and interact with users.
Better Performance. The absence of requests to the database, server-side applications, or third-party services ensures high website performance.
Security. Static websites do not require updates of frameworks or language versions. They do not have loopholes in plugins and CMS.
Hosting. Since your website includes files with fixed content that does not require any particular environment, framework, or language, you can choose whatever service you like.
Low Cost and Affordability. Static websites take up less storage space in a server disk and do not need extra functions like support for WordPress or database. In addition, it is less likely to outgrow the parameters of your hosting web package.
Flexibility in terms of design. Since static websites come without strings attached (they are not connected to one framework or theme), you can create the layout and design for every page without compromising the core. This means you can provide a rich user experience and bring to life any idea you want.
Better SEO. Fast speed, high security, and overall reliability are what Google adores. These qualities improve your rank and ensure high positions on the search page that translates into more traffic and leads.
Easy maintenance. With static websites, what you see is what you get. Everything is on the surface; therefore, it is easy to maintain. On top of that, it is easy to restore after a crash or DDoS attack.
Web Page Load Time vs. Bounce Rate – Statistics by Pulsetic
How to Host a Static Website?
Believe it or not, the easiest and, by the way, the cheapest way to host a static website is to create a public folder in Google Drive or any other similar service (it can be cloud-based storage like Dropbox as well) and put your folder with HTML files there. However, there are some downsides of this method, such as
You cannot set up your domain name there, and therefore your website will be available under a messy generic link that is very difficult to remember. Though there is a way out, you can use a domain forwarding service and give your static website a more pleasant name. However, you will lose your speed because of redirections and queries to the domain forwarding services.
There is no extra functionality that hosting providers have.
You need to face issues with security, traffic overload, hacker attacks, etc., on your own.
You may be banned or fined by Google in case of suspicious activity on your website.
Although this approach is the cheapest and the easiest, it comes with numerous flaws that you need to overcome. Some of them will require hiring experts and spending extra money. Therefore, it is highly recommended to use specialized services designed to serve static websites to the digital crowd, also known as static web hosting providers.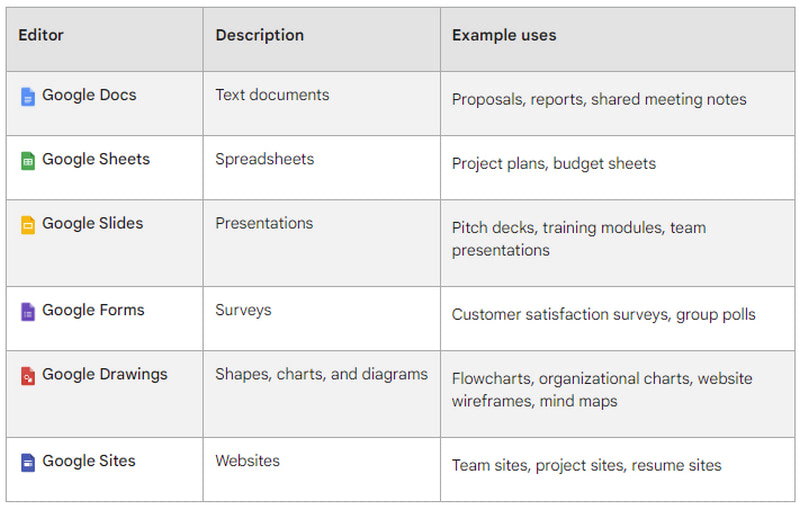 What Is Static Web Hosting?
Static web hosting is a hosting that supports fixed-content and client-side scripts. Also, you cna consider static hosting and status pages generated by services like Pulsetic.
Although every web hosting provider supports that, however, some services were explicitly designed for such a niche. They provide a productive environment for so-called Jamstack Sites, which stand for JavaScript, APIs, and Markup and are also known as static websites and applications. There, customers may get down to business right away: quickly deploy or customize a website avoiding confusion caused by overcomplicated dashboards of all-in-one solutions.
Advantages of Static Web Hosting Providers
Much like any web hosting provider, static web hosting services come with such guarantees:
Maximum security. The hosting providers are obsessed with security, and therefore, they ensure your website is safe and sound 24/7.
Top reliability. The dev team quickly reacts to crashes or issues with the system, fixing them immediately, providing 99,99% uptime.
Great scalability. Platforms have everything customers may need to scale the project within pricing tiers.
Better performance. Hosting providers with their well-maintained Content Delivery Networks can serve your website from as close as possible geographically to the person who requested it simply because a static website can be easily replicated.
Excellent support team. Hosting providers have a 24/7 support team that is tailored to static websites' needs.
Last but not least, such platforms have one massive advantage over their counterparts: they are cost-effective. With a purely static web hosting provider, you will not pay for functionality that you will never need. On top of that, you may enjoy free plans that are hard to find on all-in-one solutions.
The Best Static Website Hosting Providers
We are going to start our collection of the best static web hosting providers with several free options.
1. Github Pages
As a digital non-tech-savvy entrepreneur, Github Pages may sound strange and unfamiliar to you; however, you can hardly find a developer who has never heard about this platform or seen Octocat, the platform's adorable mascot.
Being around for more than a decade, this renowned provider of internet hosting for software development and version control has established itself as a reliable platform where developers can keep their web solutions, including static websites, free of charge. It already serves 28 million public repositories coming as the largest source code host.
Github Pages is a purely static web hosting provider, where content is stored in a Git repository. The only drawback is that free hosted sites are available as Github subdomains.
Also, it should be noted that the platform is not for the faint-hearted because it requires knowledge in development and Git. The interface is not as user-friendly as you may expect it to be, as well. Therefore, if you are willing to learn coding and principles of software for tracking changes (aka open-source distributed version control system), this platform is certainly worth a try.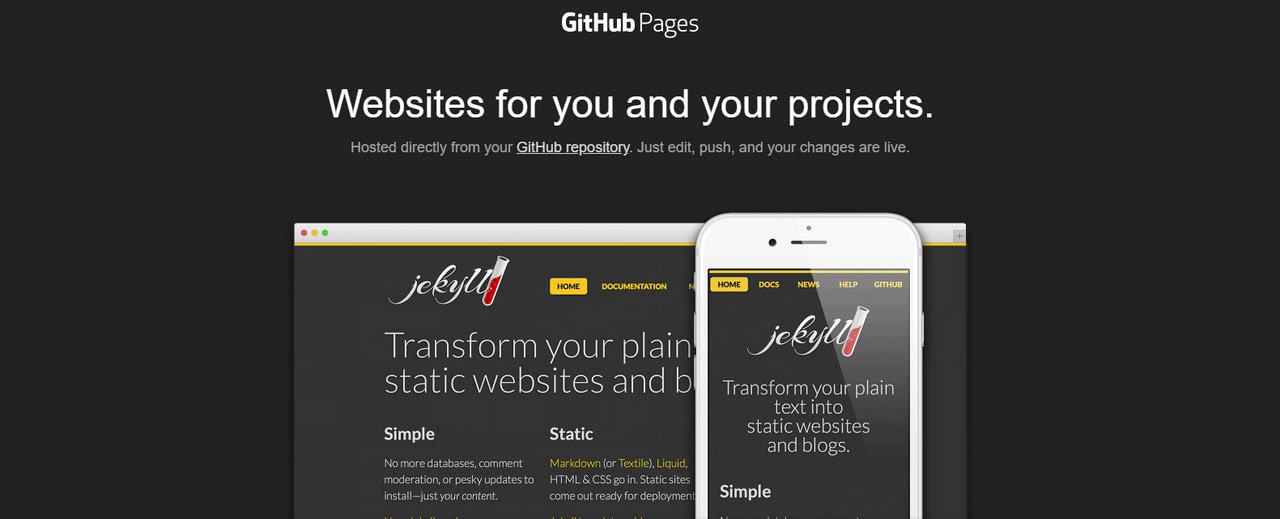 2. Gitlab Pages
Although Gitlab Pages sounds almost like Github Pages, there are still some differences between these two.
Gitlab is a fully-fledged DevOps platform to develop and operate software in a single application and manage source code or CI/CD. It is also well-known and hugely respected by the development community. For instance, it has more than 30 million users. Therefore, you can trust it with your online estate; it certainly will not let you down.
The system allows the users to publish their static websites from their repositories and perform such essential tasks as:
Use static website builders.
Create as many websites as needed.
Use or connect custom domains.
Secure websites with SSL/TLS certificates.
Configure redirects for the site.
Restrict access to the website.
Create customized error pages, including 403 and 404 error pages.
The main drawback of the platform, much like in the case of Github, lies in interface and dashboard. Do not expect them to be user-friendly and intuitive. To operate in this environment, you need to be tech-savvy.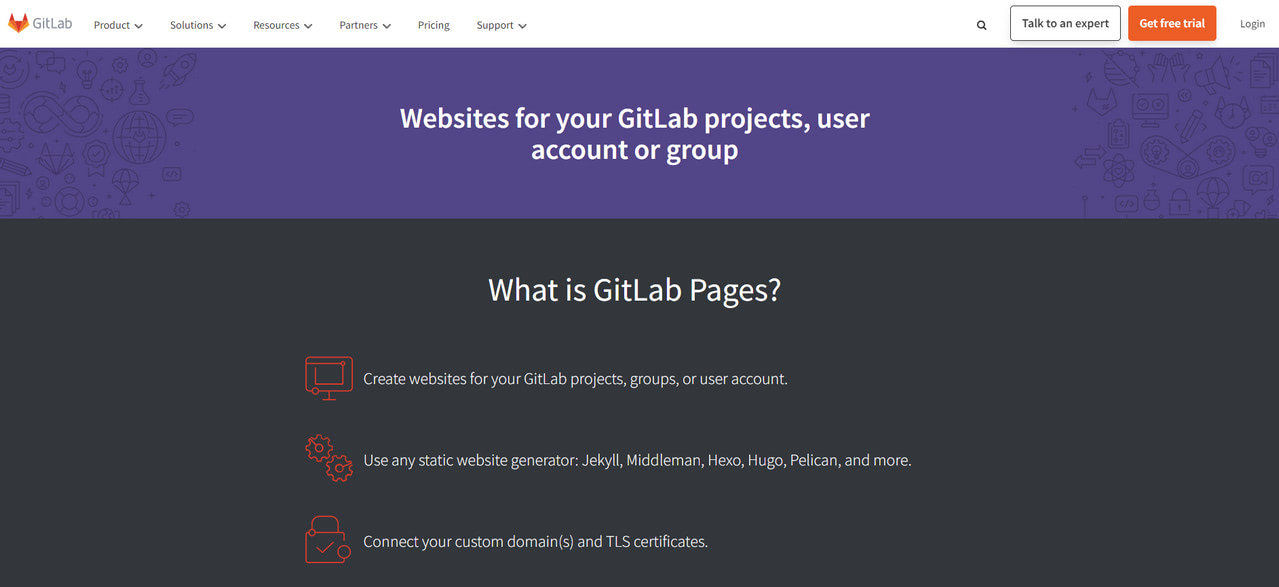 3. Static App – No-Code Static Website Hosting
Finally, the first static website hosting provider that hides the complexities of Git's distributed version control system (which you do not need if all you are looking for is hosting) and knotty interfaces of Amazon and Netlify storage capabilities.
Static App is a purely static website hosting provider that has already established itself as a reliable partner. It is super-intuitive, simple, but extremely powerful. Its mission is to make publishing and managing static websites a child's game. And, it has accomplished this by creating a user-friendly environment and unique one-click installation (just drag and drop your files, and the system in tandem with its professional team do all the heavy lifting for you).
Since the platform focuses only on static web hosting, it offers industry-leading scalability. Among its main features are:
High performance with the top uptime.
Increasingly intuitive interface that non-tech-savvy entrepreneurs will appreciate.
Free SSL certificate.
Personal Domain.
Free media storage for images, videos, and docs.
Hassle-free code editor.
A unique collection of stylish static forms that gather data from users without compromising the overall website's performance and speed.
Panel to display and analyze collected data.
The best part is that it comes with a free plan ideal for startups and small local companies. This tier gives 50MB storage, allows free sub-domains, provides an SSL certificate, and offers a 7-day trial for unlimited traffic without any credit card registration.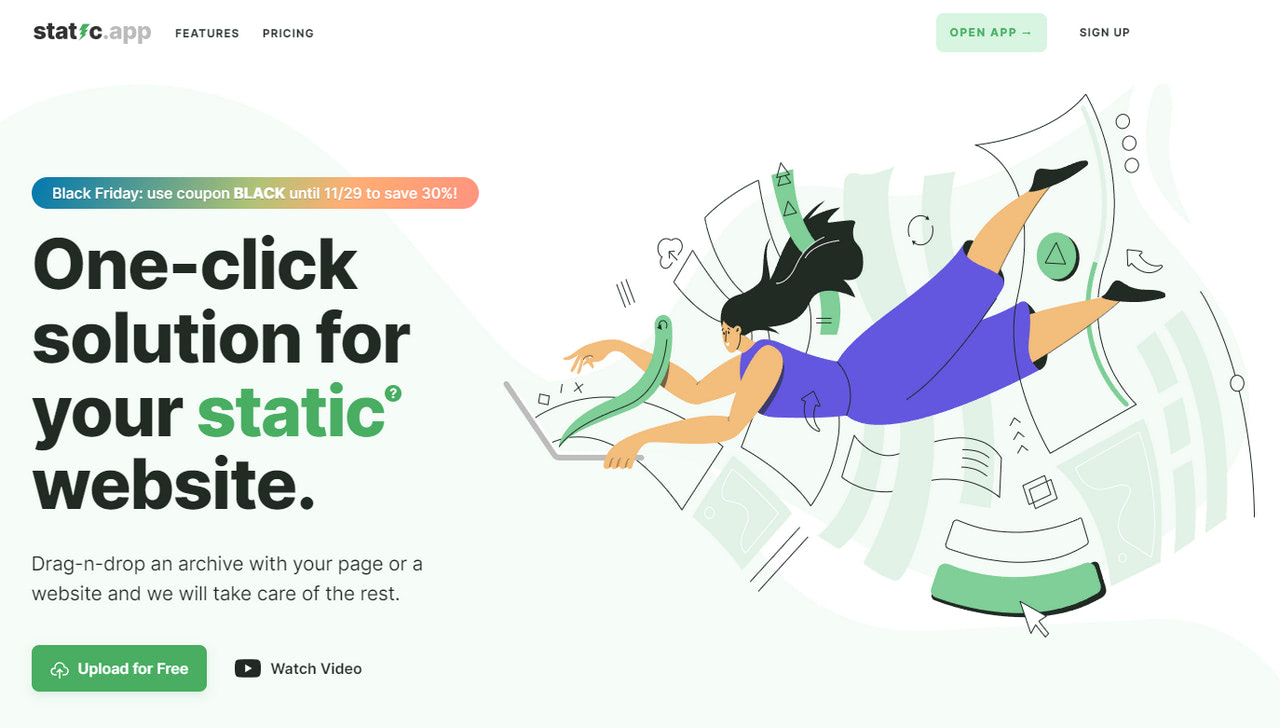 4. Amazon S3
Another big name in our collection. This time it is Amazon – the biggest online retailer in the World. It may come as a surprise, but it also has helpful development instruments to store data online, including Internet applications, backup and recovery, analytics tools, and hybrid cloud storage. Known as Amazon S3 (which stands for Amazon Simple Storage Service), it was launched in 2006 and has proved its validity. Therefore, digital entrepreneurs who need to establish themselves online are welcome to use it for their tasks.
Amazon Web Services hit all the essentials for scalability, data availability, security, and performance. Its main features are
99,99999% durability;
Integrations with 175 AWS services;
Audit capabilities;
Top security.
It also has a free plan that allows hosting one static website and using 5GB of storage and up to 1GB per month of bandwidth. It is a perfect starting point for those companies who have a shoestring budget.
As for disadvantages, there are a few of them.
The setup is a little complicated for first-time users.
You may experience issues while maintaining the website since the platform requires some tech knowledge.
You may lack some industry-specific features since the platform prioritizes storage functionality rather than hosting.
You may face an unexpected monthly fee if your site exceeds the limits, even when you are on a free tier.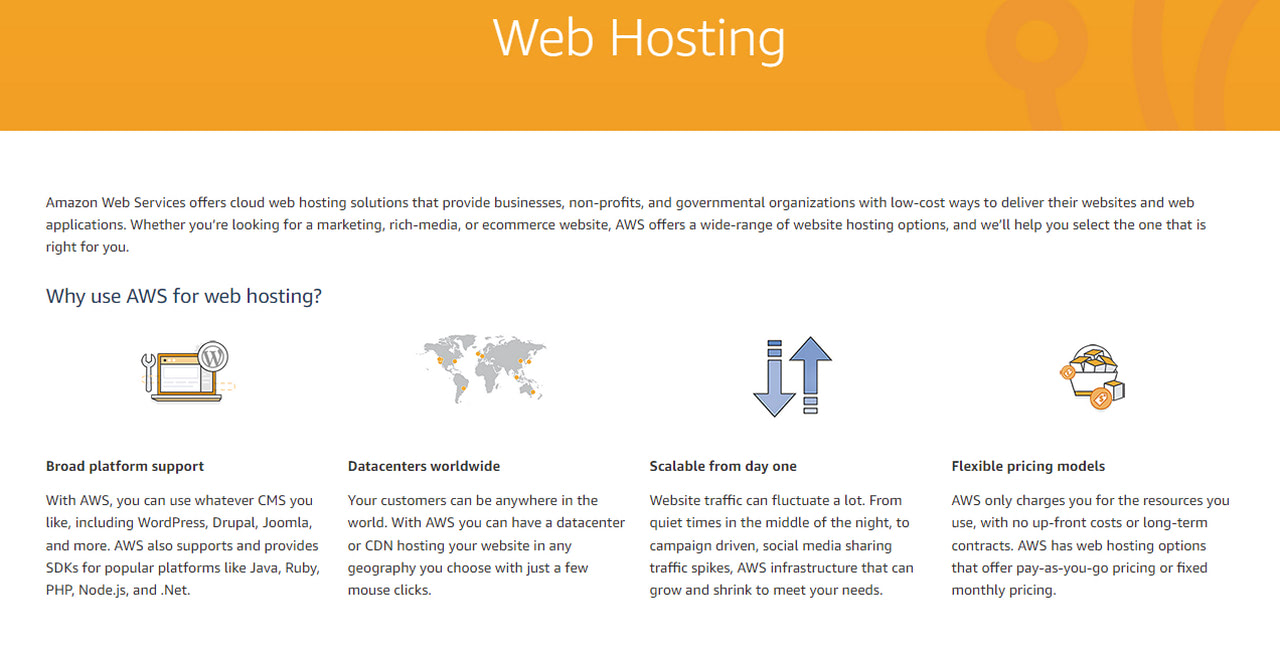 Premium Static Website Hosting Providers with Free Plans or Free Trials
5. Netlify
Created with static websites in mind, Netlify is obsessed with providing a comfortable environment for Jamstack fans. It is a platform for deploying web applications and collaborating with teammates. No setting up CI/CD, configuring CDN, or managing web servers – just work right in Git, write code and enjoy fast and seamless deployment. It also comes with scalable serverless functions to perform various vital tasks in the back-end.
Among its main features are:
A global network to make your website load fast anywhere in the World.
Automated builds and deployment.
Tools to manage binary files.
Tools to manage forms and submissions without server-side scripts.
Server-side analytics.
Full site preview.
The best part is, the platform has a free plan that offers 100GB per month bandwidth, an unlimited number of websites, 1 concurrent build, 1 team member, and 100 submissions for forms.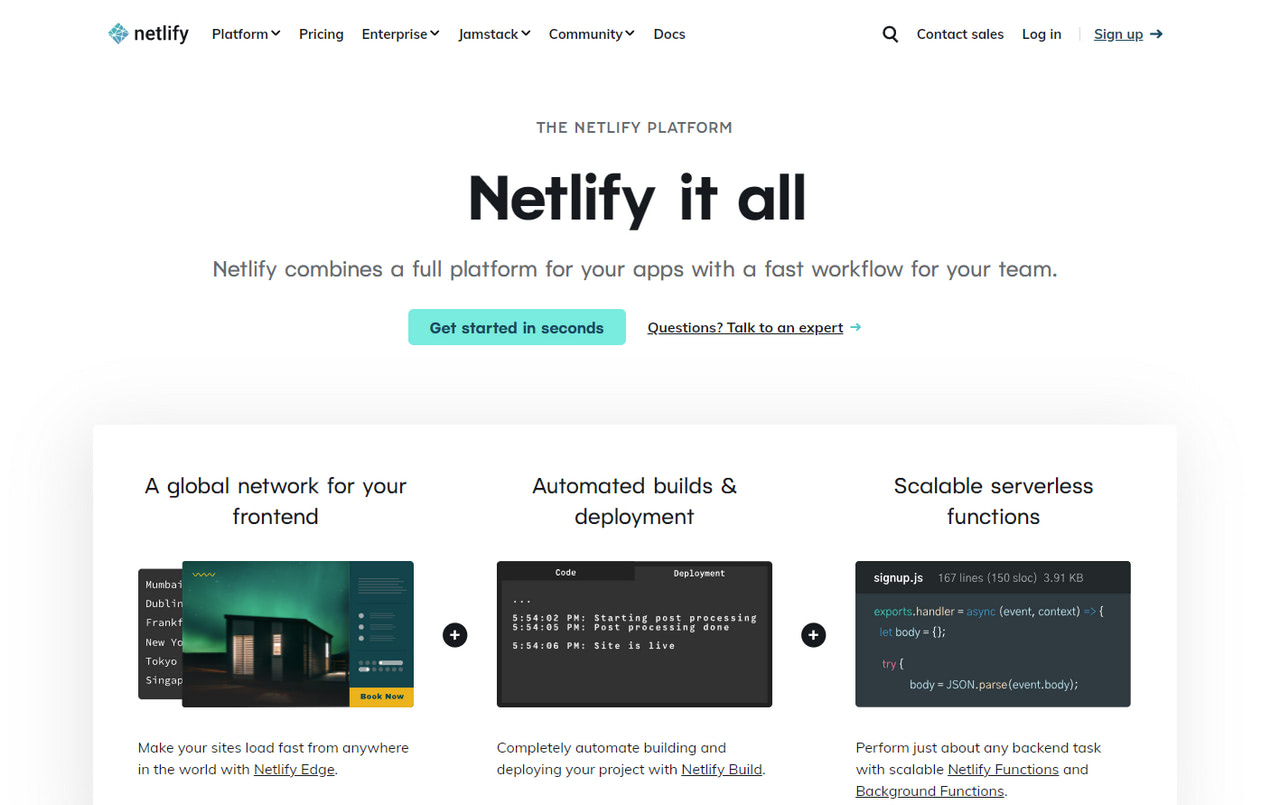 6. Static App
Static App is a highly efficient and user-friendly static website hosting provider that simplifies the process of publishing and managing static websites. It offers several key features, including:
High performance and uptime
Intuitive interface
Free SSL certificate
Personal domain
Free media storage
Hassle-free code editor
Stylish static forms for data collection
Data analysis panel
Additionally, Static App provides a free plan specifically tailored for startups and small local companies. This plan includes 50MB storage, free sub-domains, and a 7-day trial for unlimited traffic without requiring credit card registration.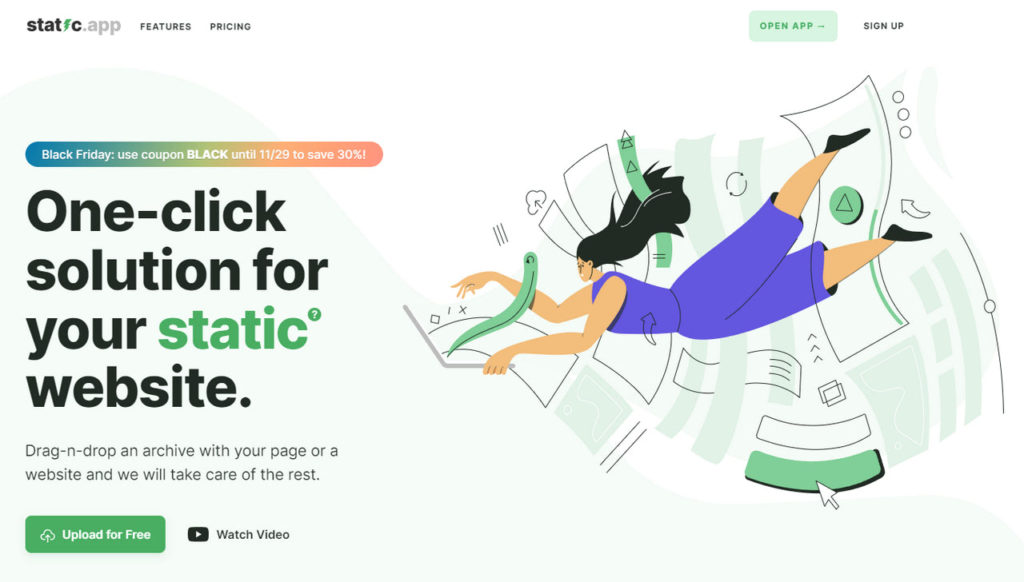 7. Forge
Forge was also designed to host static websites; no fancy object storage repositories, Git, or tricky interfaces and procedures to publish your project.
Although, the platform does not have a wizard that will unpack your folder with files and upload everything on the server giving you back a working website as Static App has. Nevertheless, it comes with its benefits. For instance,
It is a fully optimized platform with TurboJS in the heart to speed up the website's performance.
It has a fast, streamlined dashboard.
It stores a version-based history.
It offers collaboration with teammates.
It has a live site preview.
It allows synchronization with Dropbox or Github to deploy changes.
It has super-fast networks around the World.
The best part is, it has a free trial and free plan so that you can give a service a spin. The free plan allows 1 site with a 1GB per month bandwidth cap, whereas the free trial enables you to enjoy all the platform's benefits to the full extent.
Last but not least, it should be noted that, much like in the case of Amazon, you may experience unexpected fees if you go above the bandwidth and traffic limits.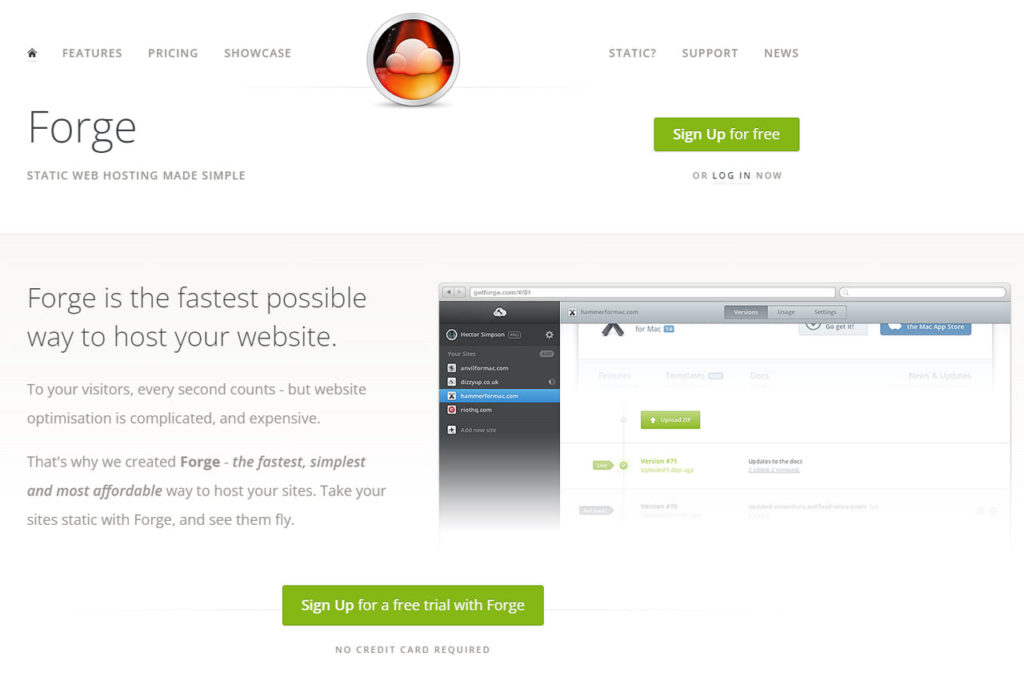 8. Surge
While Static App and Forge were created to meet the needs of non-tech-savvy digital entrepreneurs, Surge focuses on front-end developers who know a thing or two about using CLI to deploy static web projects. Though, if you are eager to spend some extra time on their in-depth "Tour across the platform" guide, you may also enjoy its benefits. One of such significant advantages is a free plan that offers unlimited publishing, custom domain, and SSL certificate – ideal for one static website.
Among the other features, you will find:
Great uptime.
High performance.
Top security.
Custom redirects.
Cross-origin resource sharing.
Password protection.
Deployment of projects to a production-quality CDN through Grunt, Gulp, npm.
Custom 404.html pages.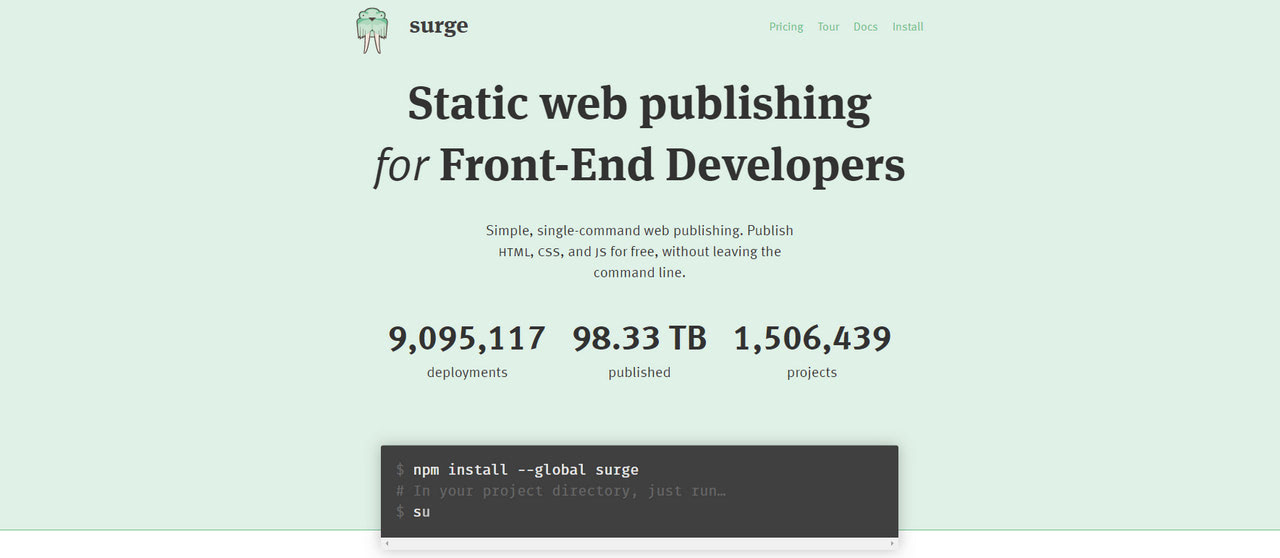 9. Render
Render is the Zero DevOps platform for developers and teams from various areas. As the team puts it, it is a unified cloud to deploy a static website and build and run multiple tasks and services. It has a colossal functionality that lets run various services under one roof. For instance, apart from publishing static sites, users can also run cron jobs, host virtually anything they want, manage PostgreSQL database, run internal services on a private network, work with APIs, launch background workers, and some more.
Among its features are:
Instant cache invalidation.
Lightning-fast CDN.
Custom Docker containers.
Web services with HTTP/2 and full SSL.
Unlimited collaborators.
Private services.
Background workers.
SSD storage.
Automatic HTTP → HTTPS redirects.
Unlimited custom domains.
There are three types of free plans: one is for static sites, one is for services, and one is for a database. The free tier for static websites offers 100 GB/month bandwidth and allows deploying an unlimited amount of sites from GitHub and GitLab.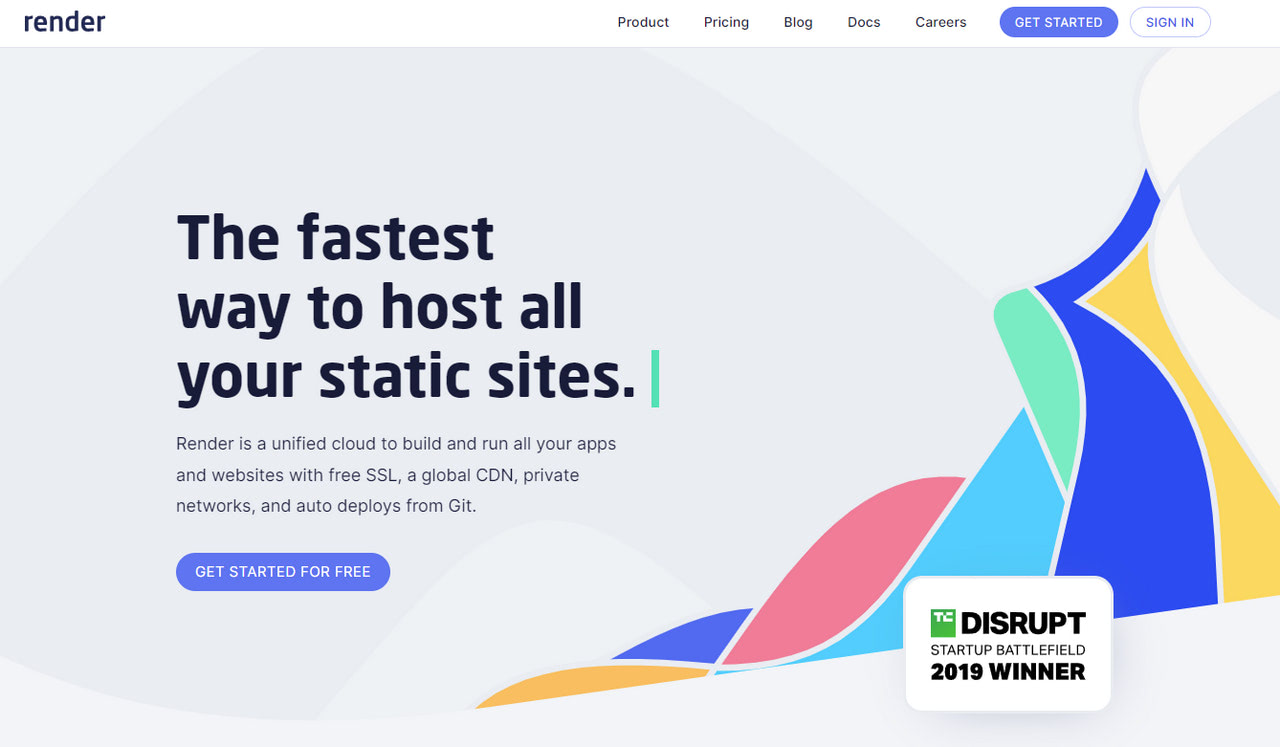 10. Google Cloud
We could not help but mention Google. As we have already said, the easiest way to host a website is to put your files into Google Drive. However, the World-renowned search system has another solution for that – Google Cloud.
Google Cloud is a set of cloud computing services designed for multiple tasks, one of which is to host static websites. It ships in with such features:
Powerful DNS System.
CDN with multiple data centers across all continents.
High security and scalability.
High performance with 99.95% availability.
Among its disadvantages:
No free plan.
Registration requires credit card or bank account details.
You need a pre-owned top-level domain.
There is no handy wizard or intuitive interface for non-tech-savvy people.
Last but not least, Google Cloud considers being on the expensive side. Therefore, only small projects that do not expect a lot of traffic may benefit from their pricing plans.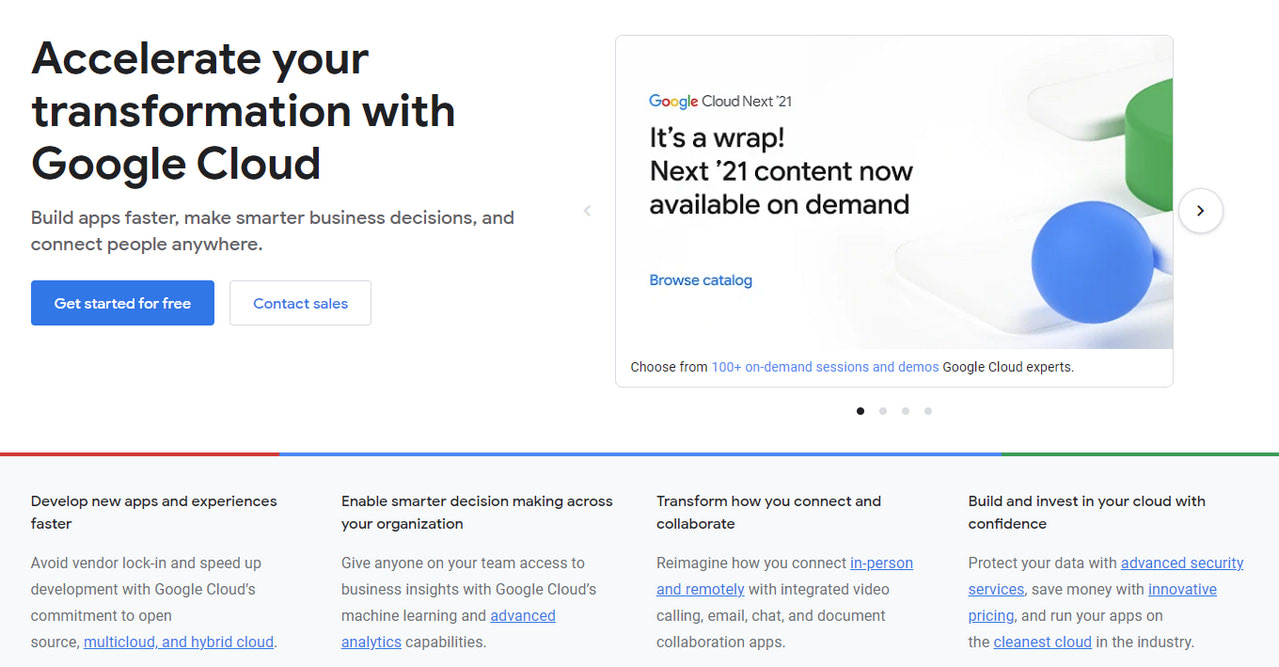 Last but not least
Our list will not be complete without big names in this niche. Although they are all-in-one solutions that can be intimidating due to numerous functions and tabs. Plus, they do not have free plans. Nevertheless, they are still valid alternatives.
11. Hostgator
If you have ever hosted a website, you certainly know Hostgator because its blue alligator (one of the most recognizable mascots in the digital World) is hard to forget. The same goes for its vast list of features that meet the needs of various market segments starting from those who need to publish static landing pages on shared servers and ending with dedicated servers and VPS. It is a powerful all-in-one platform for businesses all around the Globe.
Hostgator comes with such guarantees and benefits:
99.9% uptime.
24/7/365 support.
A variety of eCommerce tools to run your e-store.
Support for content management systems, including WordPress.
cPanel access.
Website builder.
Although there is no free plan or free trial nevertheless, the team has won the title of "the lowest hosting prices of the year." Their unique plan for small websites costs less than $3 per month, and it includes a free domain, a free SSL certificate, and unmetered bandwidth.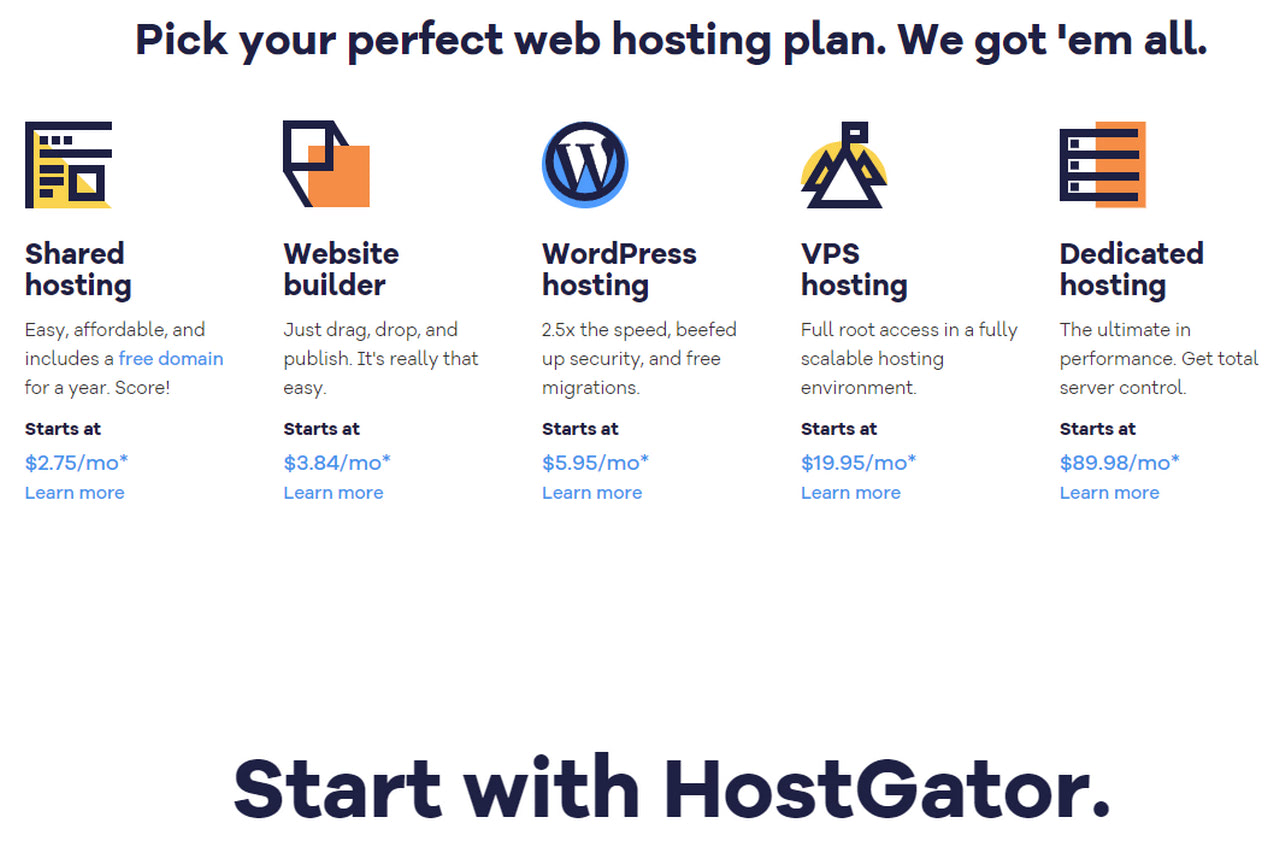 12. Godaddy
Godaddy is the World's leading service platform for providing domain names. It has been around for more than two decades, starting its path in far 1999. Today the platform offers its customers everything they may need to grow online. Therefore, it is no longer only a domain registrar. It is a fully-fledged hosting provider with all the essential features like:
Website builder;
Collection of stylish templates;
The e-commerce platform to sell goods;
Top-notch support team.
As for hosting, the platform offers
High performance,
Fast speed,
99,9% uptime,
Security,
cPanel access,
Integration with WordPress,
Global data centers.
GoDaddy currently serves more than 20 million customers; however, it is not the cheapest option, and there is no free plan or free trial. The basic plan will set you back almost $6 per month with a 3-year term. This tier includes one website, 100 GB storage, unmetered bandwidth, and a free domain.

Conclusion
The trend of high-end web performance and static websites is already here. Google consistently compels the community to push the bottom line of performance by advocating AMP and granting quick and deft websites with better ranks and positions.
For instance, Pinterest had already enjoyed better page ranks that translated into a 15% increase of sign-ups (leads) when they reduced wait times by 40%. Therefore, it is no surprise that we see an upsurge of static websites that meet the demands of the top search engine and the global market, which expects nothing more than lightning speed and high performance from web applications.
Creating a static website is no longer a problem: there are numerous drag-and-drop generators with stylish designs and regularly updated functionality like Slides. However, when it comes to hosting, it is here where you can face true challenges.
The deal is all popular, and renowned hosting providers prioritize fully-fledged dynamic websites forcing users to pay for functionality that they do not need and work in a feature-rich environment that can be intimidating and overwhelming. The free alternatives like Github are no better because they prioritize developers offering an environment that non-tech-savvy people cannot efficiently handle.
The way out is to find the hosting provider explicitly designed for static websites. There are some great options in the wild. However, Static App is one of the best in this niche.
It is the fastest, simplest, and most affordable way to host static websites. It hits all the industry-specific essentials such as
providing high uptime,
offering excellent performance,
ensuring top-level security,
allowing content delivery network integration.
On top of that, this user-friendly platform offers a wizard that publishes websites without the client's intervention.
Finally, it has a free plan with the most advantageous terms for startups, small companies, and marketers to create high-converting campaigns based on landing pages.